>

TTK Project Case Study: TTK at Equinix PA6, PARIS
+ Toggle navigation
TTK Project Case Study: TTK at Equinix PA6, PARIS
TTK DIESEL OIL LEAK DETECTION SYSTEM AT EQUINIX PA6, PARIS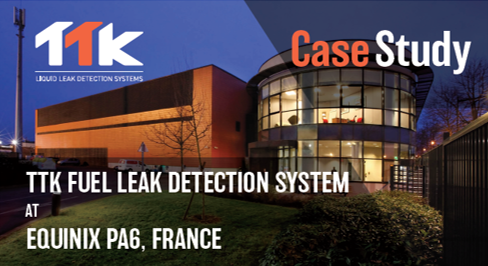 View the case study in PDF format. 
Project Background
The project for fuel leak detection consists of 2 underground generator rooms, with each room comprising of 5 diesel generators with additional buffer tanks in adjacente room.
A TTK digital water leak detection system was installed to cover the data halls and other technical areas using one FG-NET monitoring panel.
About Equinix
Equinix, Inc. is an American multinational company founded in 1998, headquartered in California, that specializes in internet connection and data centers. The company leads in global colocation data center market share, with 200 data centers in 24 countries on five continents. It is listed on the NASDAQ stock exchange, and as of 2018, it had approximately 7,200 employees globally.
Project Requirements
Although the emergency generators are located in an area regularly inspected, the client is aware of their importance in the event of a utility failure. An undetected diesel oil leak on generators can be extremely detrimental with potentially severe consequences for a data centre. 
To ensure uninterrupted functionality of the generators at all times, the client requires a reliable and effective fuel leak detection system, connected to their centralized BMS, to monitor these two generator rooms.
In order to reduce down time, the client requires an addressable system capable of pin-pointing fault locations on every individual sense cable simultaneously. The cost-saving benefit of TTK's reusable fuel sense cables also ensures minimum expense.
TTK's Solution
TTK France recommended its fuel leak detection system, using FG-OD addressable fuel sense cables, be installed to the perimeter of each generator and buffer tank.
The FG-OD cables detect the presence of liquid hydrocarbon at any point along their length and the embedded microprocessor in each one allows for multiple leak detection and location in the same circuit. 
Diesel is a low volatile hydrocarbon liquid and the FG-OD cable is capable of detecting it within just 35 minutes (a great deal faster than the 120 minutes of traditional sense cables). 
Designed to be cleaned and reused after leak detection, the FG-OD cable is cost effective and makes on-site testing possible.
With a FG-NET panel already installed on site for monitoring critical areas for water leak detection, the addition of twenty FG-OD cables required could be added to the existing system, with no need for an extra monitoring panel, simply the addition of jumper cables and diversion box to complete the connection.